Those of you who switched from Android to iOS at one time or another might have been stunned the first time you attempted to set a second timer on the iPhone. It could not be done. Since multiple alarms are doable, iOS users could set a second "timer" of sorts by telling Siri, "Set alarm for 12 minutes." Still, this would seem to be something that Apple should be able to offer iPhone users. 
Sure enough, during WWDC 2023 this past June, Apple's software chief Craig Federighi announced that finally, after all these years, multiple timers will be available on
iOS 17
. With the
iOS 17
beta, it appears that more timers than you can possibly need at one time can be set although only five will show up on the lock screen at one time. 
Setting a timer remains a simple task. All that is involved is opening the Clock app, pressing the Timer tab at the bottom of the screen, and spinning the wheel to match the length of the timer you need set. Tap on Start and the timer starts counting down. Of course, Siri can be used to set a timer. Similar to how you set multiple alarms on iOS 16, there will be a "+" sign in the upper right corner of the display that you will tap in order to open an additional timer. Or you can ask Siri to create another timer even if there are others already running.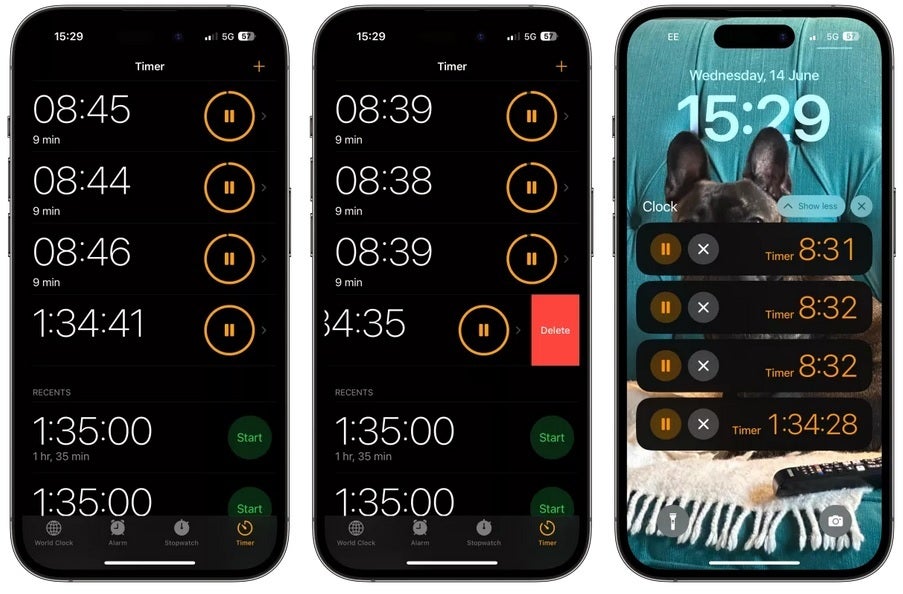 Multiple timers can be set in iOS 17. Image credit-John-Anthony Disotto
If having the capability to have multiple timers running at once is very important to you, one option is to install the latest public beta version of iOS 17. Just a few days ago, iOS 17 Public Beta 3 was released. However, there is a huge caveat as anyone who has ever installed a beta knows. Some of the apps that you count on daily might not work right and battery life is often atrocious. There is a reason that betas are considered to be "unstable." Do not load an iOS beta on your daily driver.
If you want to join the
iOS 17
beta program, go to www.beta.apple.com or
tap on this link
. Just remember to back up your phone before installing the beta because exiting the program before the final version of
iOS 17
is released will force you to wipe your device.
Sure, being able to use multiple timers on the native iOS Clock app is not earth-shattering but it is a small little improvement that iPhone users will be happy to see.