Lotus Anxiety Ring | Handcrafted Healing Ring
Find inner peace in the chaos of modern life with this elegant Lotus Flower Ring. This handmade design is a stylish solution for everyday stress. Spin the ring, breathe deeply and regain calm. The Lotus Fold Ring (Size US 5 to 9) is made from brass plated with silver and comes in a beautiful black velvet jewellery bag, ready to be gifted!
Estimated Delivery: Sep 23 – Sep 25
---
If you're like over 25 million Americans who bite their nails, you'll love this
The Lotus Spinner Ring, which is also referred to as a Meditation or Worry ring, is a ring that spins against your finger to prevent nail biting.
The Lotus flower is a symbol of purity, enlightenment, self-regeneration and rebirth. Its characteristics are a perfect analogy for the human condition: even when its roots are in the dirtiest waters, the Lotus produces the most beautiful flower.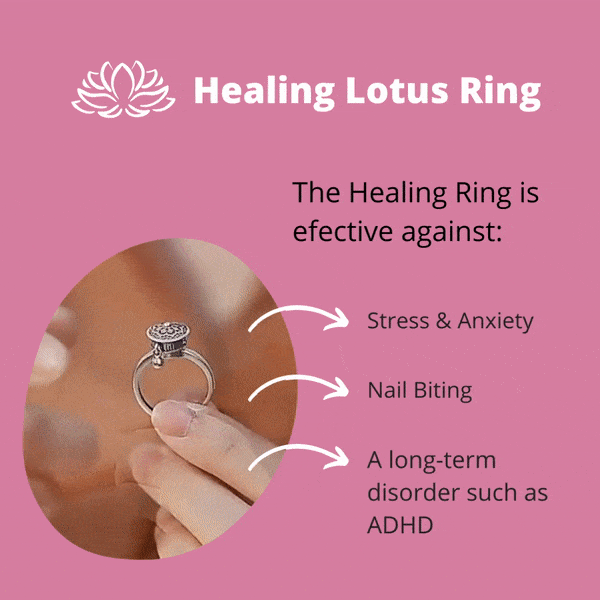 Anxiety is one of the most common mental illnesses in America, and it can manifest itself physically or emotionally.
This elegant Lotus ring helps you focus on breathing and calming your mind. People with anxiety and depression say it works; try it today.
Sweet Demise
"I must admit I love this ring. It is half a size too big but I'm still keeping it. If you know what the lotus represents, that's all me so I figured what better way to express it then this beautiful ring. I would definitely purchase it again if something happened to it. It's not cheaply made at all. Perfect for a gal like me who can be a little rough at times."
Courtney
"From someone who has severe ADHD and anxiety – this ring is a game changer. This lil' ring has only been on my finger for a few days, but it's already like a security blanket and helps me stay in reality when my brain has too many tabs open. I HIGHLY recommend this ring. The shipping was fast and the packaging was cute, too!"