The smartphone industry has still not recovered from the effects of the pandemic and supply shortages. Add to that the impact of inflation on people's spending habits and it's hardly surprising that
sales declined 9.5 percent
when compared to the second quarter of 2022 in Q2 2023. Huawei and Transsion Holding were the only companies that grew their sales during the April-June quarter. Samsung was still the top seller, followed by Apple, who was a not-too-distant second. According to new data from 
Display Supply Chain Consultants (DSCC)
, out of the five best-selling models, four belonged to Apple.
Apple was the biggest buyer of OLED panels in Q2 with a share of 32 percent. Samsung was next, accounting for 23 percent of OLED purchases.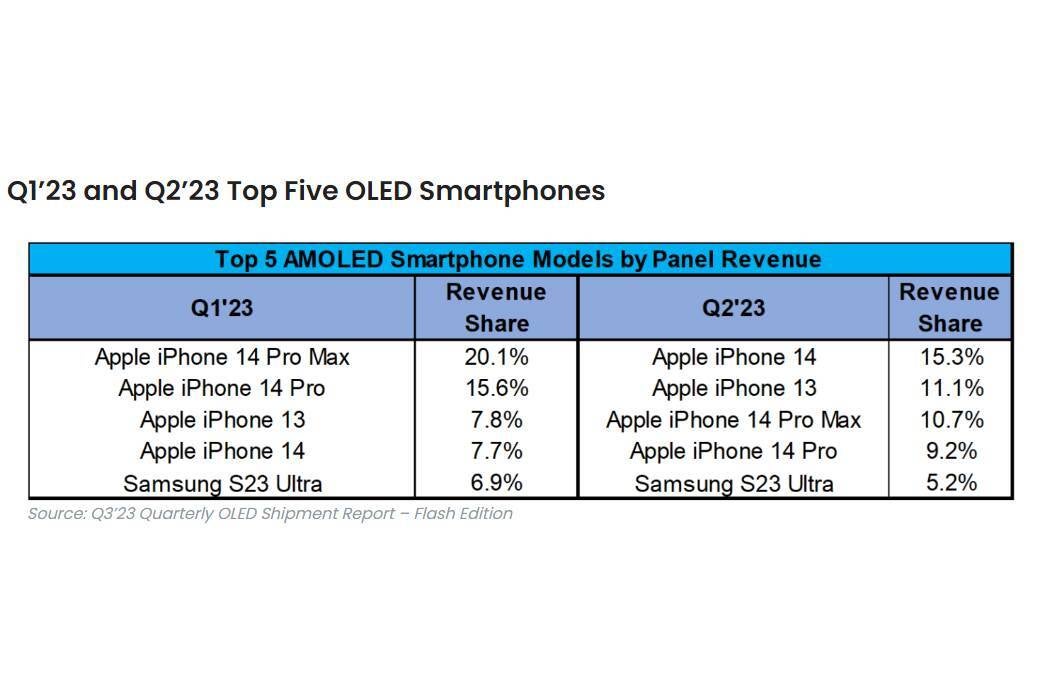 Per the report, the regular
iPhone 14
 was the most popular OLED smartphone during Q2 and made up 15.3 percent of sales. That's interesting because the Pro models were dominating the charts before and the performance of the standard models, particularly the
iPhone 14
Plus, was said to be disappointing. The
iPhone 14
was also among the top five models in Q1, but it was at the fourth spot and had a share of 7 percent. 
The second most popular model was the prev-gen iPhone 13 which had a market share of 11.1 percent. 
In contrast, the
iPhone 14 Pro Max
and
iPhone 14 Pro
were the best-selling models during the first quarter of the year, with a market share of 20.1 percent and 15.6 percent, respectively.
While it's hard to pinpoint what might have led to a decrease in demand for the
iPhone 14 Pro
and Pro Max,
iMore
speculates that with the
iPhone 15
series right around the corner, well-to-do buyers are waiting for the new Pro models.
The regular models usually drive up sales volume in the second quarter, so the performance of the
iPhone 14
isn't that big of a surprise. But the fact that the iPhone 13 has also moved up a step seems to suggest that price-sensitive buyers are not happy about
iPhone 15 price increase rumors
and have decided to go with a year-old model instead, which is more affordable than the
iPhone 14
.
The
Galaxy S23 Ultra
is the only Samsung handset on the list and it's right at the bottom, despite being one of the
best phones
around.